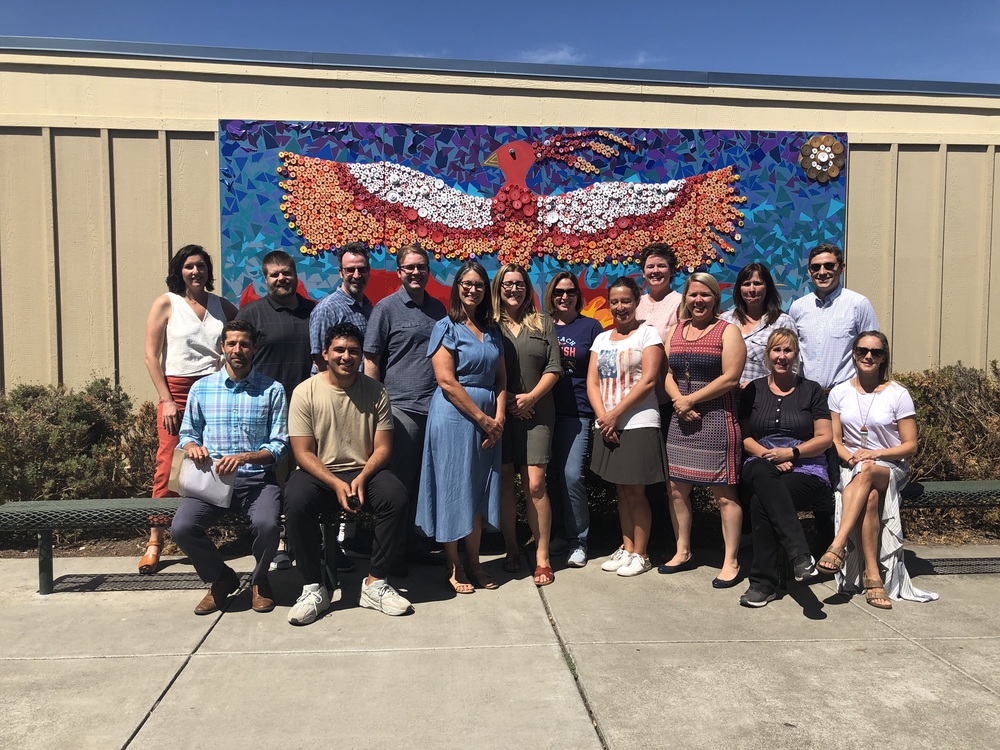 Firebird News, Week of September 9, 2019
Hannah Bates
Tuesday, September 10, 2019
Firebird News
RVCS Sequoia
Week of September 9, 2019
Message from the Principal
Now that our school year is in full swing, you may notice more homework coming home. There are some ways we as a school help students in middle school organize their time and keep track of their assignments. Each teacher checks student planners to make sure that students are writing their assignments in their planners. We use boost time as a way to help students ask for extra help if they need it, turn in work, and work on their organizational skills. You can help at home by having your child work on their computer in a communal area, so you can see what they are doing, providing them with quiet time and space to work on assignments, and helping them email their teacher if they get stuck. These study habits are great to form now, so that by high school, students will feel confident and prepared.
Hannah Bates, Principal
Visit our website for additional information: https://www.rvusd.org/o/rvcs-s
Fun Fact: The next nine days have palindrome dates--9/11/19, 9/12/19, etc. This is the last time this will happen this century!!!
Upcoming Dates
Monday, September 9--Ceramics Class, Room 16, 3:30-4:30 pm
Tuesdays, 3:15-4:30 pm--French Club, Room 20
Tuesday, September 10--Board Meeting, 6 pm, District Office
Friday, September 13--Welcome Back Dance, 3:30-5:30 pm, Matanzas
Thursday, September 19--Odyssey of the Mind Meeting, 6-7 pm
Friday, September 20--Progress Reports Sent Home
Friday, October 4--Fall Festival, Sequoia, 4-7 pm
ZAP (Zeros Aren't Permitted)
The staff of RVCS is dedicated to making sure that all students are successful. Completing work in the time frame allotted is an important part of a student's ability to succeed in class; we help students learn how to manage their time and give direct instruction on how best to organize assignments. If a student fails to complete their homework, classwork or project by the indicated due date and turn it in to their teacher in the assigned format, they will be ZAPped. This means they will be required to come to the ZAP room at lunch to complete the assignment in order to turn it in for credit. Students will have one week to attend ZAP at any lunch period they choose, until the assignment is complete. In order to get credit for a late assignment, their ZAP slip must be signed and submitted with the late work. Repeated ZAPs may result in lost privileges and a conference with parents to determine a course of action. Students may also come and work in the ZAP room by choice.
Odyssey of the Mind
We are excited to be able to start our own RVCS Odyssey of the Mind team this year! From the OoM website:
Odyssey of the Mind is an international creative problem-solving program that engages students in their learning by allowing their knowledge and ideas to come to life in an exciting, productive environment. Participants build self-confidence, develop life skills, create new friendships, and are able to recognize and explore their true potential. OotM proves that students can have fun while they learn.
If you want to know more, or think your child may want to participate, please attend the district meeting this Thursday, September 12th at the Village Elementary MPR from 5:30-6:15. We will be hosting a school meeting on Thursday, September 19th from 6-7 pm. A huge thanks to Emily Asencio for coaching and helping to organize this amazing program for our school!
RVCS Parents' Association
One of the great things about your child attending a charter school is the opportunity to give back to the school community! We ask every family to try to give 10 hours of volunteer time each year. Lots of opportunities are coming up, including our Fall Festival fundraiser. While your child attends, you can help by volunteering an hour or two of your time to make this event great! Look for the Sign Up Genius coming home soon to sign up. Our next Parents' Association meeting is Tuesday, October 1st at 7 pm in room 27 at RVCS Matanzas. Come join us if you are interested in joining an event committee.
Volleyball Schedule:
Transportation will be provided to all games from school. Parents need to pick up their child from games. All 7th grade games are at 3:45 pm and 8th grade games are at 4:45 pm.
Wednesday, September 11th: Victory Christian at RVCS-S, home game
Monday, September 16th: Windsor Christian Academy at RVCS-S, home game
Wednesday, September 18th: RVCS-S at Sonoma Country Day School, 4400 Day School
Place, Santa Rosa
Monday, September 23rd: Presentation at RVCS-S, home game
Wednesday, September 25th: RVCS-S at RVCS-M, 1687 Yulupa Avenue, Santa Rosa
Monday, September 30th: Sebastopol Independent Charter at RVCS-S, home game,
8TH GRADE ONLY AT 3:45 PM
Wednesday, October 2nd: RVCS-S at Mark West Charter, 4600 Lavell Road, Santa Rosa
Monday, October 7th: RVCS-S at Grace Christian, 301 Fulton Road, Santa Rosa
Wednesday, October 9th: RVCS-S at Healdsburg School, 33 Healdsburg Avenue,
Healdsburg
Monday, October 14th: Summerfield Waldorf at RVCS-S, home game
Wednesday, October 16th: Sunridge Charter at RVCS-S, home game
Tournament TBA
Cross Country Schedule:
All cross country meets start at 4 pm, with course walkthrough at 3:45 pm. Transportation is provided to the meets; parents are responsible to transport their child home after.
Tuesday, September 17th: Schollenberger Park, 1400 Cader Lane, Petaluma
Tuesday, October 8th: Sonoma Country Day School, 4400 Day School Place, Santa
Rosa
Tuesday, October 15th: Riverfront Regional Park, 7821 Eastside Road, Healdsburg
Fall Festival:
Fall Festival information will come home with your child TODAY! You will receive information about the event, how your child can sell raffle tickets, what prizes they can earn, how to buy wristbands and meals and much more!!! Please check with your child and make sure they give you the information.
Student Handbook
Students learned about our school rules and got information about our classes last week; they each received a student handbook in class. A copy of the student handbook is located in the documents section of the website so that you can read it and discuss it with your child; it gives helpful information about school rules and policies, contact info for teachers and staff, and includes a copy of the computer agreement. Please contact us with any questions.
Garden Club at RVCS Sequoia!
For the fourth year, Seedlings Garden Group is offering Garden Club at RVCS Sequoia, Fridays after school until 4 pm. This is a great opportunity for your child to learn about growing plants and food, help out their school, and earn volunteer hours. Please see the attached letter and fill out the permission slip for your child to participate. Extra copies are in the school office.
Back to School Dance
Our first school dance will be Friday, September 13th at RVCS Matanzas from 3:30 to 5:30 pm! Dance tickets are $5 throughout this week, and $6 until lunch time on Friday the 13th. No tickets sold after lunch. Students should purchase their ticket from their homeroom teacher. All students should bring their student IDs to get into the dance. Snacks and water will be available for $1 each. DJ Dax will take requests!
Stop!t App and Website
Our school will be using the Stop!t App and website this year. This is an app/website where students can feel comfortable reporting information about behavior or issues at school anonymously. This allows administration to prevent problems and help students with their needs more quickly. Below is some information from Stop!t for parents and other members of the school community:
https://stopitsolutions.com/for-community/
Please see documents section for handbook and flyers!