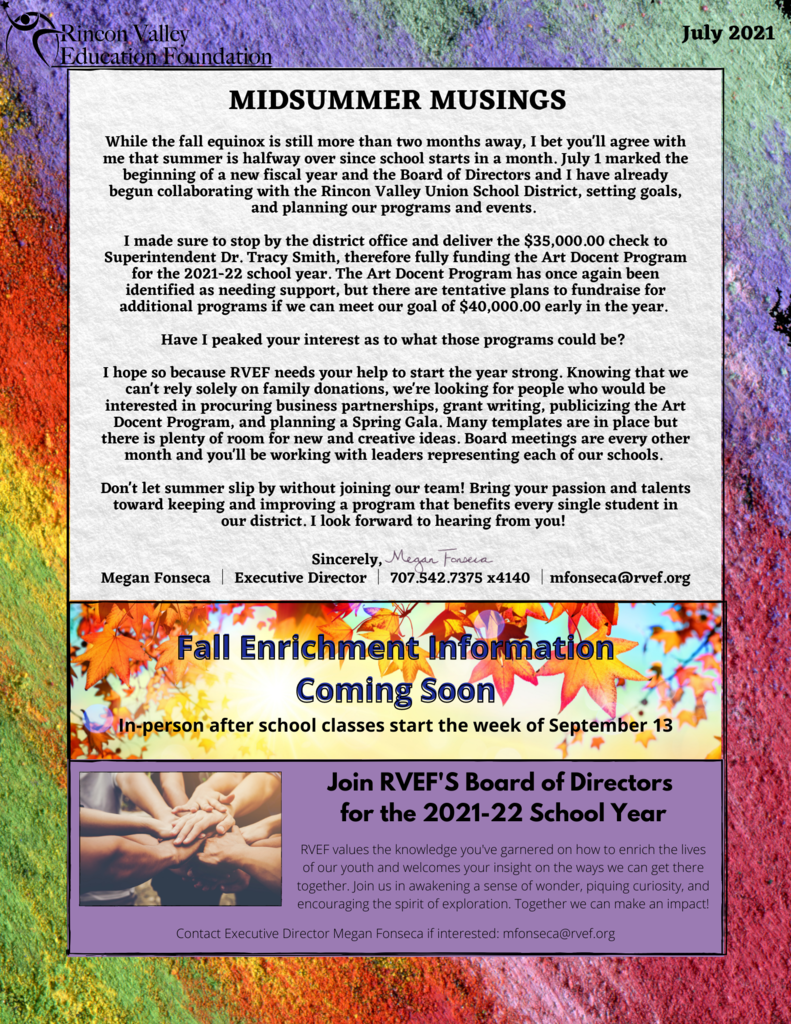 Dear RVUSD Families, The California state legislature has approved new guidelines for Independent Study. Independent Study is the basis of our Home Study program and is the offering we are able to provide as a district for families who wish to have their students remain in a distance learning setting. We expect that the vast majority of students will return to our campuses, but need to also provide a continued learning option for those keeping their students at home. We have attached more information for your consideration here.
https://bit.ly/3zrXbgv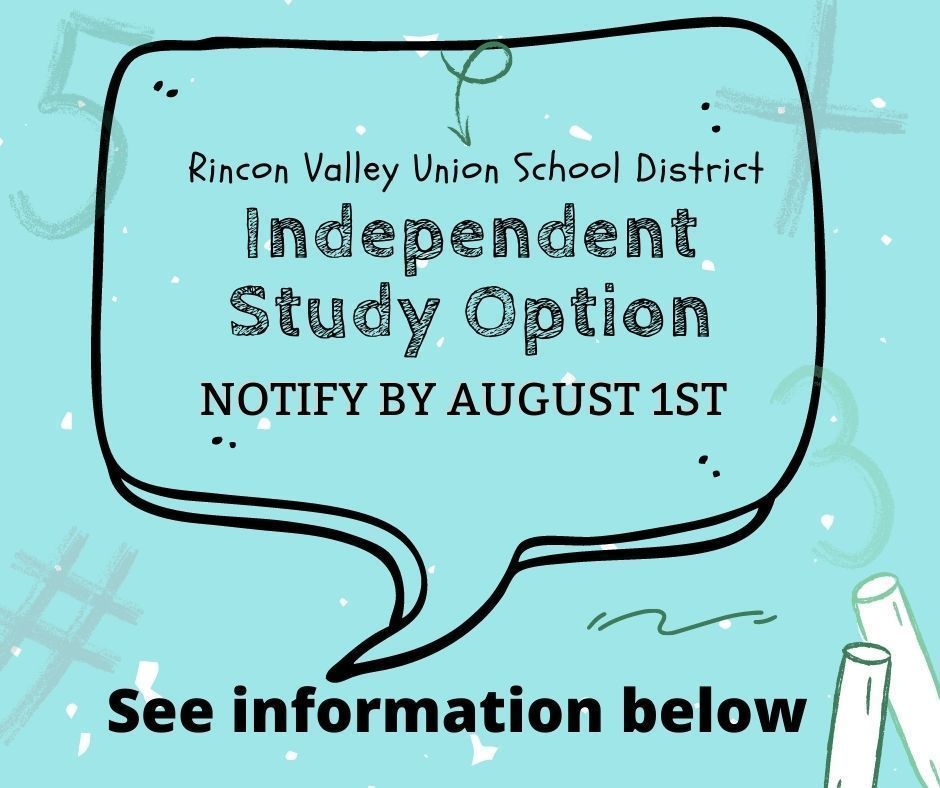 *All Youth Ride Free* Santa Rosa CityBus launches a new Unlimited Rides (UR Free), pilot program providing fare-free rides for Santa Rosa youth on any of CityBus's regular fixed routes, seven days a week beginning July 1. More info: srcity.org/Fares --- *Todos los Jóvenes Viajan Gratis* Santa Rosa CityBus lanza un nuevo programa piloto de viajes ilimitados (UR Free), que proporcionará viajes gratuitos para los jóvenes de Santa Rosa en cualquiera de las rutas fijas regulares de CityBus, siete días a la semana a partir del 1 de julio. Más información: srcity.org/Fares

Have a great Summer!

Today's Schedule: 1st Period Zoom - 8:45-10:00 am 2nd Period Zoom - 10:15-11:30 am In-Person - 12:40-2:10 pm

Join us tonight on Zoom at 6pm! How to Create a Community of Belonging Session #2. Using compassionate dialogue to create inclusive communities. Spanish Translation will be provided Zoom Link:
https://us02web.zoom.us/j/84505492387
Meeting ID: 845 0549 2387
Mark your calendar! Don't forget! Wednesday is our Dine and Donate at Toppings. Head over for lunch or dinner, desserts, refreshing snacks. It's on the corner of Highway 12 and Farmers Lane, near Togo's. noon-8:30pm. They have yogurt, of course, but also slushes, hot dogs and Polish dogs, the biggest topping bar with the most unusual gummies around, and even frozen treats for dogs. Check it out and support the school! 20% of all proceeds go to RVCS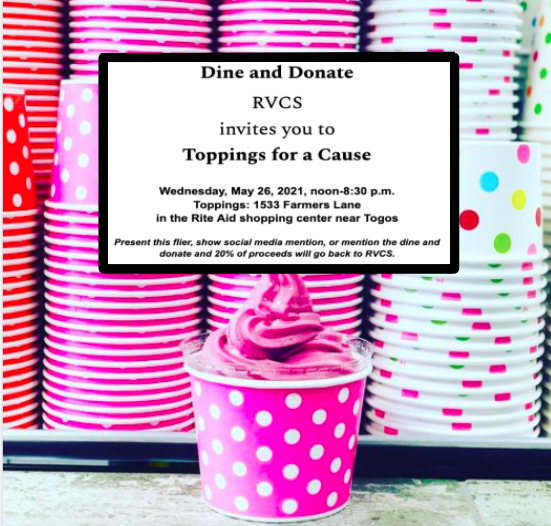 We appreciate all you do!

Thanks for being AWESOME!

Thank you for all that you do!

Thank you to all of our Classified Staff!



Join us for Monthly Zoom Movie Night tonight at 5 pm. Now showing - "Soul Surfer". Bring a snack to Zoom and enjoy!
https://rvusd.zoom.us/j/96871827417
? pwd=Wm9BVzJjazl4ZFYxUXY1aTAzcVdTZz09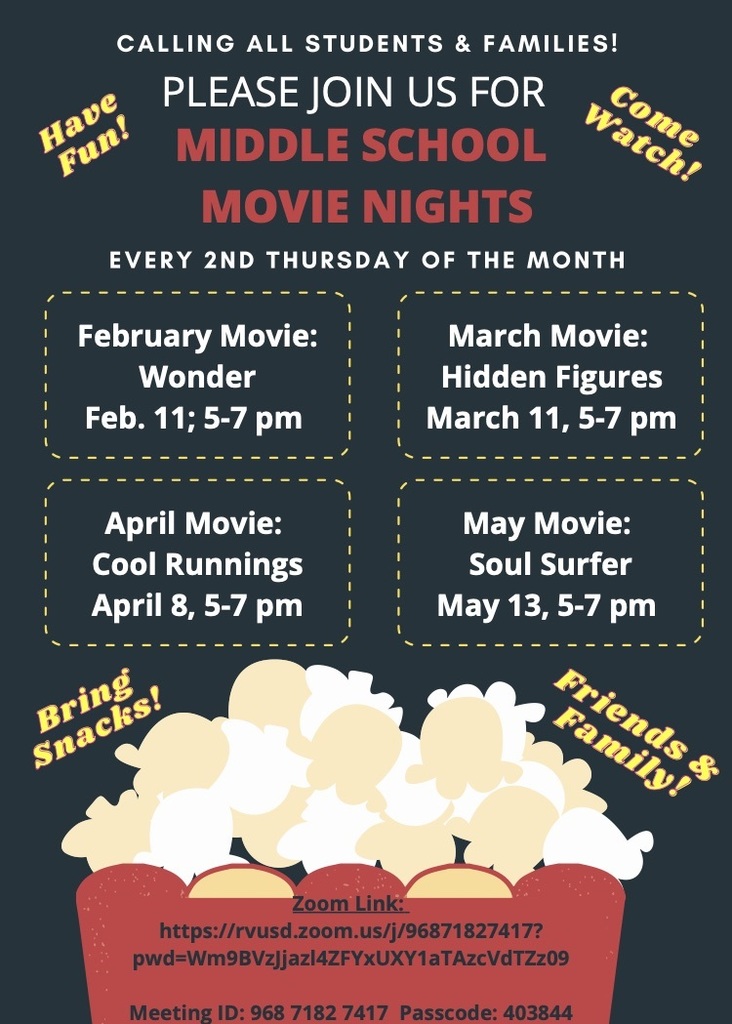 Dear RVUSD Community, We are excited to share some important information about vaccination opportunities through the Sonoma County Office of Education for all community members 16 years of age and older. Click the link below for more details.
http://bit.ly/SCOE-Clinic


Dear RVUSD Community, We recently became aware of an issue with email delivery from emails at sonic.net. We are working with Sonic to have this issue resolved and will be manually pushing through any delayed emails daily in the meantime. We apologize for any communication issues this may have caused.

Join us for a parent forum called How to Create a Community of belonging hosted by EPOCH Education. We will be using compassionate dialogue to create inclusive communities. April 27th at 6pm Zoom Meeting:
https://us02web.zoom.us/j/9220035469
Meeting ID: 922 003 5469

RVUSD Families, Please click on the link below to read about our April 13th Regular Board Meeting highlights. Board Meeting Highlights:
https://www.smore.com/2m6qx