EDIT MAIN
Hi RVUSD Community Members,
Please use this page for the current information on our reopening plan for Fall 2020. We will continue to update this page. Please note that any information posted here is subject to change based on updated guidance from local or state health authorities. We will be following and referring to the guidelines outlined in the CA Covid Roadmap https://covid19.ca.gov/roadmap/. Within the local and state regulations we are also interested in feedback from the community. If you would like to provide feedback please use this feedback form:https://forms.gle/qCKXySzsgrSU19TY6. We want to hear from you and look forward to working with you to meet the needs of all RVUSD students.
July 8th Sonoma County Office of Education School Roadmap
June 18th Parent Forum Slideshow
June 18th Parent Forum Recording
Planning Process
This Spring Superintendent Dr. Tracy Smith convened a Fall planning task force. This task force was broken into the following sub-committees
In Person Instruction
Distance Learning/Technology
Intervention/ELD
Mental Health Supports
Special Education/Transportation
Human Resources/Negotiations
Health and Cleaning Protocols
Communication
Food Services
Extended Care
Each of these sub-committees is made up of Teachers, Support Staff, and Administration. There have also been outreach via full staff or community Zoom meetings and Full staff and community surveys to better understand the needs of students, staff and the community in deciding our plans for the Fall educational program
Options Being Offered For Fall 2020 as of June 19, 2020
At Home Options: (Both Options Will be Offered)

Remote Learning: Remote learning will be an option for any family requesting it. The details and expectations of remote learning are still being worked out but in this model, instruction will be delivered by a certificated teacher but via video conferencing and work will be submitted/completed using digital tools
Homestudy: In the home study model the district will provide resources and support from a credentialed teacher but instruction will be delivered by a parent in the home

Blended Learning Hybrid Model

AM/PM Model: Students will be divided into small groups to allow for increased spacing in the classroom. One group will attend school in the morning another will attend in the afternoon. Cleaning will take place between groups. Students will be provided with work to complete for the remaining school day hours while they are out of the classroom. Wednesday will be a distance learning day to allow for PD planning and deep cleaning.

RVCS

RVCS Will be operating under a different model that better fits middle school instruction. More information will be provided directly from the RVCS Staff

SDC

In-person special education SDC classes will be able to operate full day 4 days a week due to the smaller class size fitting into the smaller cohort requirements of the current health directive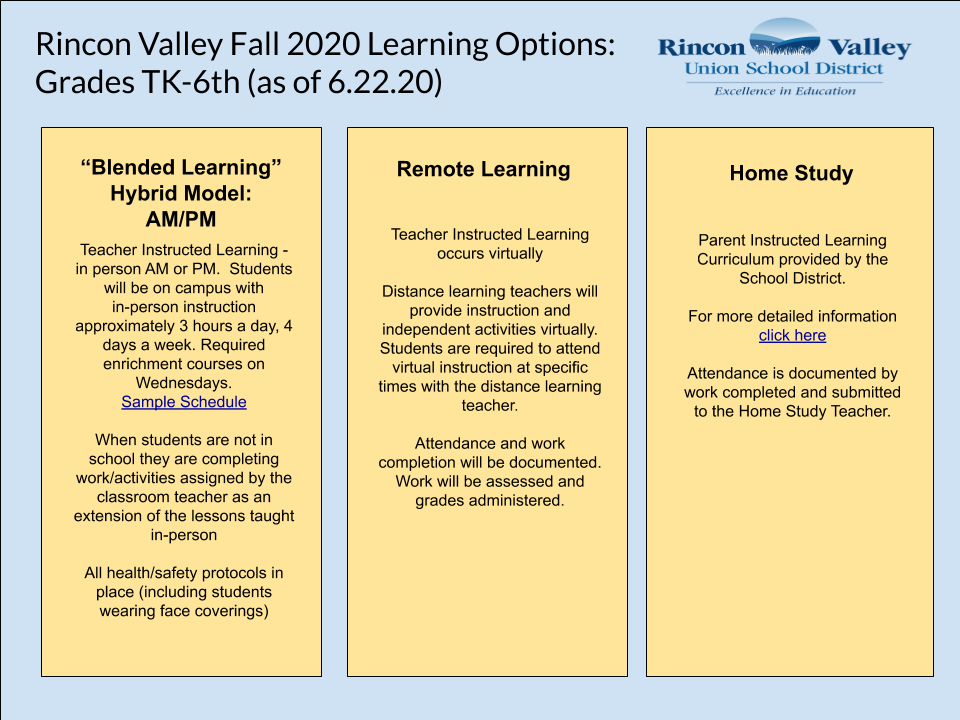 When Models May Change
We will be asking all families to commit to a model. We will likely not be able to transfer students between models after the school year begins
If we enter stage 4 we may be permitted to return to full class size in-person learning with strict health protocols in place
We may at some point be required to no longer offer in-person learning. In that event, those cohorts will be a move to a remote learning model until in-person learning can resume
Sonoma County Office of Education Graphic Explanation of models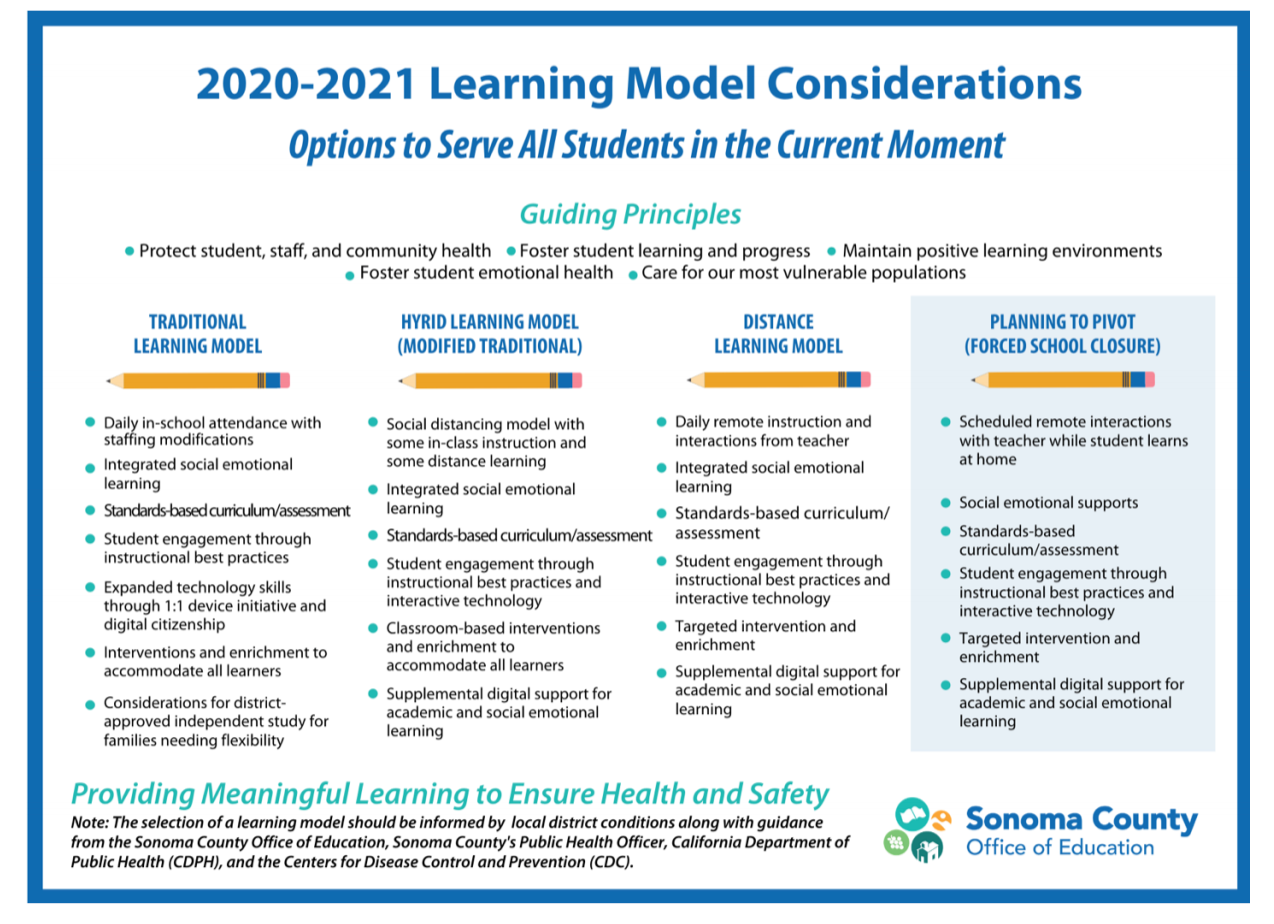 RVUSD Safety Protocols
Training- All staff and students will be trained on behaviors that reduce spread. These include: safety and cleaning protocols, social distancing requirements, personal hygiene and handwashing
Limited Contact- Contact between student cohorts and with noninstructional staff will be limited. Any maintenance work, IT work or cleaning will be limited to off-hours when possible
Contact Tracing- Staff that are not assigned to specific classrooms or campuses will digitally check-in to all sites and classrooms before entering the campus or site for potential contact tracing purposes.
Face Coverings- Staff and Students will be required to wear coverings. Any student that is not able to remove a face covering unaided will not be required to wear a face covering
Adequate Supplies- We have secured PPE additional handwashing supplies and cleaning supplies
Exposure Notification- The county health office has provided protocols for notification of families and staff of potential exposure. These protocols include guidance on maintaining privacy of staff and student medical information.
Signs and messaging- All campuses will have significant signage to reinforce safety guidelines and provide social distance markings on the ground
Isolation Rooms- All campuses will have social isolation rooms for students that present symptoms during the day
Health Checks- All staff and students will be required to submit daily health checks before arriving on campus. The district has also purchased touchless thermometers for every classroom to allow for additional on-campus health checks.
Cleaning- The district is developing new clearing protocols with guidance from local health agencies.
Limited Sharing- Educational practices are being adjusted to limit the sharing of learning supplies (pens, pencils, manipulatives, etc)
Desk Spacing- Desks will be spaced out and all face the same direction in alignment with the health department guidelines
Physical Barriers- Physical barriers such as plexiglass screens will be deployed where appropriate
Increased Ventilation- Use of outdoor spaces, having windows and doors open and adjusting the ratio of fresh to recirculated air in HVAC systems are all being investigated
RVUSD Re-opening FAQs
Will students be able to attend full days 5 days a week? At this time this is not allowed under the county health regulation. When the county enters Stage 4 we may be offering full-day class 5 days a week.
How will Special Education Services Operate? SDC Classes will operate full day 4 days a week as they already meet the reduced cohort size requirements. It is still being determined how RSP, Speech and other Special Education services will operate. Much of this will be determined based on the model that is ultimately selected.