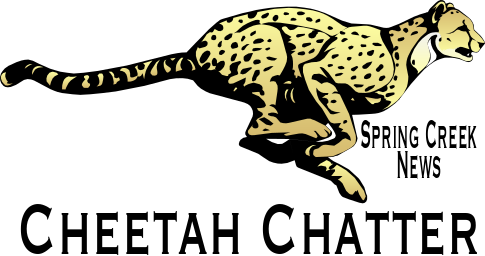 Cheetah Chatter Newsletter 5/4/2020
Shawne Kearney
Tuesday, May 05, 2020
Cheetah Chatter Newsletter 4/20/20
Hello Spring Creek Families,
Included in this newsletter:
Grab and Go Cheetah Luau

Student attendance Information

Counseling Corner- See Ms. Krista's videos.

Spirit Theme for the upcoming weeks

Teacher Appreciation Week

Link to order the Spring Creek Yearbook

Are you returning to Spring Creek? Survey please

Distance learning resources

Cheetah Awards Assembly https://www.loom.com/share/7b7...
We miss all of you
Grab and Go Cheetah Luau is May 28th! The last week of school spirit theme is Hawaiian/Luau Party. Wear your Hawaiian clothing and drive by to drop off your chrome books, library books, then pick up your classroom bag with all of your personal belongings and classwork. End with picking up a copy of our yearbook prepaid or sales while supplies last. We will have music, a dancing Cheetah, staff and teachers for you to say good-bye. More detailed information coming soon. Here is the schedule:
K: 8-9:30
1st grade: 10-11:30
2nd grade: 12:30-2
3rd grade: 2-3:30
Important Information for Rincon Valley Families
Parents,
It is important that your child participates in our Distance Learning activities. We are required to monitor student attendance and look forward to seeing your child take advantage of online meetings and teacher provided activities. Your child's teacher will be sharing a schedule of activities with you.
If your child or your family are struggling during this time of Shelter in Place and Social Distancing, we want you to know that we are here to support you in any way that we are able to. Please contact your child's teacher or your school principal if you think that there may be some way that we can support you.
Thank you and please stay safe and healthy.
Rincon Valley School District Administration
Counseling Corner:
Here is a link to Mrs. Krista, our school counselor, reading a story. Check it out. It has a great message. Her newest story called STUCK: Watch Video
https://www.loom.com/share/dccfbf822b704c3fb515f386aba6742f?utm_medium=gif and Humpty Dumpty as well
https://www.loom.com/share/9b7c8f80c548473b91f1d063c6d93b4f?utm_medium=gif
Do you need emotional support, contact our school counselor at kboyd@rvusd.org
________________________________________________________________________________________________________________________
Theme for this week is:
Teacher Appreciation
We LOVE our Teachers and SCMC Staff!
Teacher Appreciation Week is May 4-8th
Spring Creek Matanzas PTA is hoping you'll help make the week special for teachers and staff members by joining us in a few or all of these activities. With the abrupt end to our physical school year our educators have put in so much time and love into our virtual classrooms. We want to remind them how important they all are to our families.
Monday
Draw, pick or create a flower and send the photo to your teacher by email or classroom app. Send one to any staff member that is extra special to your student(s) too.
Tuesday
Share what you miss most about your teacher or classroom in an email to your teacher.
Wednesday
Wear red for Ed! Wear red today to show your support for education!
Thursday
Get creative. Write, chalk, draw or paint I
My Teacher or I
My School and display it so it can be seen outside your home.
Share photos with us by email, daltonfamilyof5@gmail.com, or on our PTA facebook page.
Friday
Our thank you video collage will be posted on the PTA's facebook page and emailed out to teachers and staff.
We will be making a video collage of thank you's for the Spring Creek Matanzas staff. You can sign up to do a specific sign on the sign up genius or if your student(s) would like to make a sign with their own message for a teacher or staff member (ex. speech, classroom aid, office staff, counselor, lunch staff) and take a photo please email it to daltonfamilyof5@gmail.com Please remember to write in big bold letters, use lots of color and take your picture close up to make it stand out. All photos must be emailed by Monday May 4th to be included.
Sign up genius
https://www.signupgenius.com/go/70A0945AEAA2CA7F94-teacher
Please share any photos to the PTA facebook group. We love seeing all the students!
________________________________________________________________________________________________________________________________________________________
Thank you for all you are doing. We don't want any family to struggle, so please reach out. We are here to support you.
Here are some links and resources to ordering yearbooks and ways we can support you.
Order your Spring Creek yearbook:
http://jostensyearbooks.com/?REF=A09821285
Important: If you have not completed this form, Please do so.
Having trouble with technology or logging in? Call our HOTLINE at 542-7375 Ext 1005 Tues. -Fri. Between 10:00-2:00
Do you need emotional support, contact our school counselor at kboyd@rvusd.org
Do you need help in Spanish? Contact our Bilingual Family Liaison, Jessica Torres at jtorres@rvusd.org// Si necesita ayuda en Español, puede contactar Jessica Torres: jtorres@rvusd.org .
Breakfast and lunch are offered to anyone under the age of 18 everyday M-F at Village and Whited School. Children do not need to be present.
Need a chromebook? Call our main office 707 545-1771 and we will get you a chromebook.
You can call our Spring Creek office and your phone call will be connected to our office manager, Sarah Hall. She can direct you to what you need.
Please contact us with questions! We are here to support you and your children. Stay safe and know that we are missing you and all of our students!
Upcoming Spirit Week Themes
5/4- 5/8 Teacher Appreciation
5/11- 5/15 Safari/ Jungle/ Cheetah
5/18- 5/22 Disney or Favorite Character
5/25- 5/29 Hawaiian/ Luau Party
Shawne Kearney
Spring Creek Principal