Dear Rincon Valley Staff and Families, We are definitely getting the rain that we needed. We are aware of the alerts that have gone out about areas of Santa Rosa that are experiencing flooding. We have had crews checking out our school sites and at this time are planning to have schools open tomorrow, Monday October 25th. We will continue to monitor the weather and conditions through the evening and will send out updates as needed. Please stay safe and have a good evening. Rincon Valley Administration

Congratulations to Ameelvi Torres as our October Classified Employee of the Month!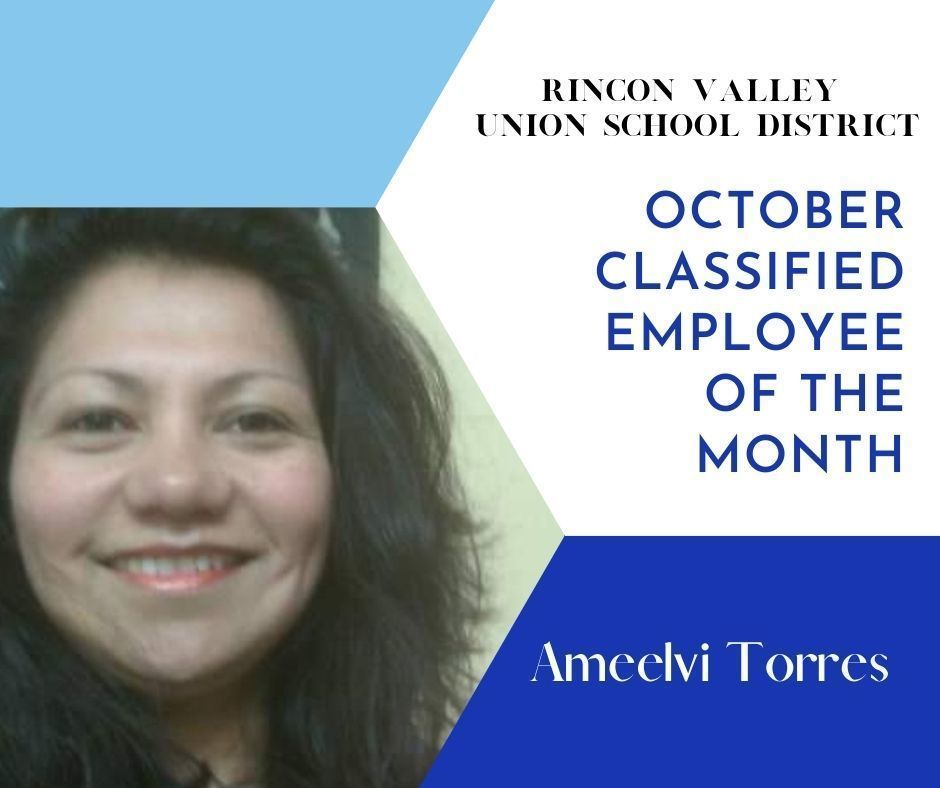 In Person Board Meeting, Starting October 12: -We are looking forward to hosting our first In Person Board Meeting, starting October 12 at 6pm. -We will be following all safety guidelines, including wearing masks -Board Meeting will be held at 1000 Yulupa Ave, Santa Rosa -October 12: Board Meeting Agenda -Zoom Link
https://rvusd.zoom.us/j/92346101062
. Public Comment Information: -To make a public comment, please attend the meeting in person OR submit a comment via this form no later than 2pm on the date of the meeting. -If you are interested in submitting a public comment card, and are not attending in person, it will be read for you during public comment, time permitting, or given to the members of the Board for consideration ahead of the meeting. -The public may continue to tune in via Zoom -Spanish Translation How to Video:
https://youtu.be/LQwnT8kW-vc

RVFC ("Rincon Valley Family Collaborative") is a forum for joint collaboration and communication between Rincon Valley Union School District and our families of students with disabilities. If you are a parent/guardian of a student with an IEP served by RVUSD or Rincon Valley Partnership, please join us this coming Wednesday, September 29th from 6-7pm on Zoom to discuss the RVUSD Learning Recovery Plan. See link to flyer below for more details!
https://drive.google.com/file/d/11SzPItMDQf-YKz0_UobZcBdkVr9GmNjx/view?usp=sharing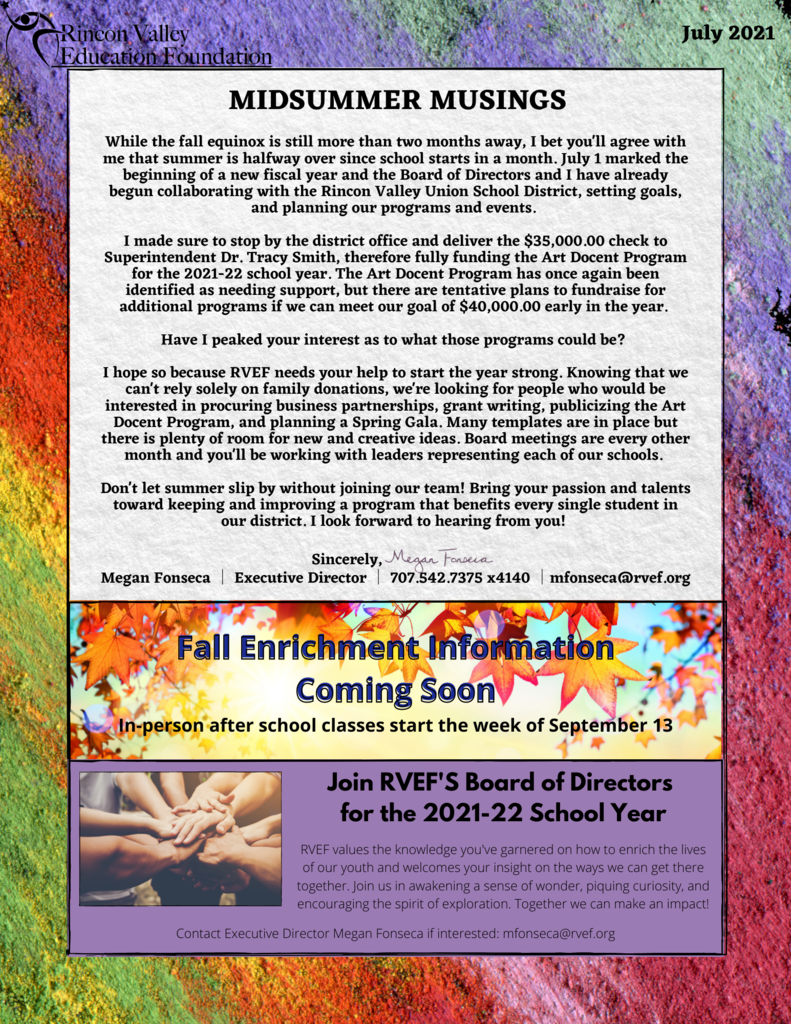 Dear RVUSD Families, The California state legislature has approved new guidelines for Independent Study. Independent Study is the basis of our Home Study program and is the offering we are able to provide as a district for families who wish to have their students remain in a distance learning setting. We expect that the vast majority of students will return to our campuses, but need to also provide a continued learning option for those keeping their students at home. We have attached more information for your consideration here.
https://bit.ly/3zrXbgv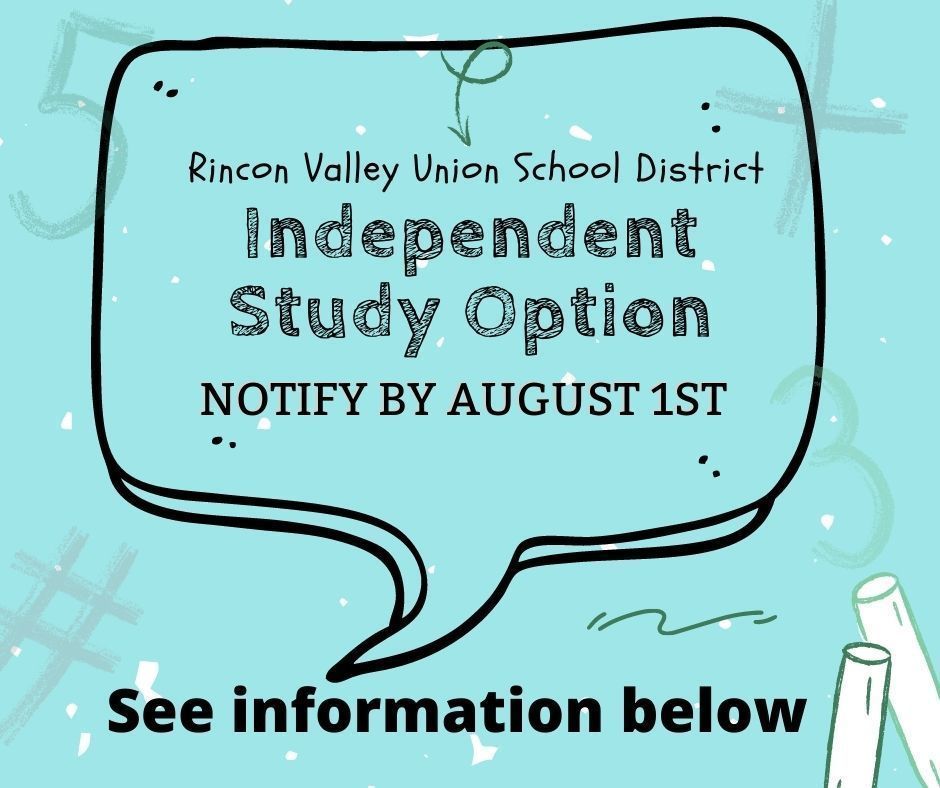 *All Youth Ride Free* Santa Rosa CityBus launches a new Unlimited Rides (UR Free), pilot program providing fare-free rides for Santa Rosa youth on any of CityBus's regular fixed routes, seven days a week beginning July 1. More info: srcity.org/Fares --- *Todos los Jóvenes Viajan Gratis* Santa Rosa CityBus lanza un nuevo programa piloto de viajes ilimitados (UR Free), que proporcionará viajes gratuitos para los jóvenes de Santa Rosa en cualquiera de las rutas fijas regulares de CityBus, siete días a la semana a partir del 1 de julio. Más información: srcity.org/Fares

Have a great Summer!

Join us tonight on Zoom at 6pm! How to Create a Community of Belonging Session #2. Using compassionate dialogue to create inclusive communities. Spanish Translation will be provided Zoom Link:
https://us02web.zoom.us/j/84505492387
Meeting ID: 845 0549 2387

We appreciate all you do!

Thanks for being AWESOME!

Thank you for all that you do!

Thank you to all of our Classified Staff!

Dear Parent/Guardian: We are beginning the process of forming classes for the 2021/2022 school year. To help us be as precise as possible, please complete this survey to notify us as to whether or not your student will be returning next year.
https://forms.gle/NC5Yov3R2n3Dj2KK6
Please complete this form by Friday, May 21st. Thank you for your help in this matter!


Dear RVUSD Community, We are excited to share some important information about vaccination opportunities through the Sonoma County Office of Education for all community members 16 years of age and older. Click the link below for more details.
http://bit.ly/SCOE-Clinic