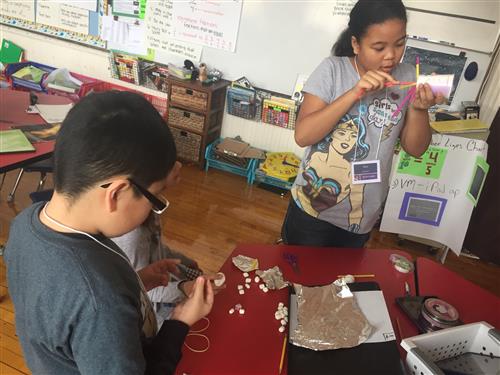 Why STEM?
We believe that all sixth grade students, regardless of gender, economic status, or school site, should have equitable access to STEM educational opportunities during the school day. The intent of the RVUSD STEM program is to increase interest and competencies among all sixth grade students in STEM disciplines, with an emphasis on developing the following:
Confidence

Perseverance

Growth mindset

Comfort in trying new things

Working effectively in a collaborative team

Error correction by watching and working with others

Experience with tasks that do not have predetermined steps or answers

Design principles that emphasize building, refining, and improving a project or product
Through an integrated model of STEM, students will develop a foundational understanding of the baseline skills that correlate to current and future job markets; digital citizenship, programming, mechanical design, coding, and data science.
Who will teach the STEM classes?
Two teachers (1.4 FTE) have been selected to teach the STEM classes. Students will attend these classes for 45 minutes, two days a week. The STEM teachers will move from site-to-site so that classes can be held in the science labs at each individual school.
What will the instruction look like?
A loosely structured learning environment intentionally inspires students to learn from one another. By providing opportunities for innovative, "out of the box" critical thinking and real-world problem solving, student interest and inquiry will guide the learning and allow ample time for questioning and exploration.
In an effort to showcase their learning and connect to the world outside of Rincon Valley, all students will select a culminating capstone project to complete and present in the second half of the year. Possible events that the capstone projects may be tied to include; Bay Area Science Festival, STEAM Showcase, Five Minute Film Festival, Odyssey of the Mind, or the Lego Robotics Challenge at the Sonoma County Office of Education. In addition, the STEM teachers will be organizing interactive STEM events at each of the schools.
How will this tie back to regular classroom instruction? At this time, STEM classes will be stand-alone enrichment experiences that will not directly correlate to classroom instruction. However, since they are tied to the NGSS Standards and Eight Mathematical Practices, they are consistent with the science and math teaching and learning in the sixth grade classrooms. As a new science curriculum is adopted, increased alignment to a classroom scope and sequence will be considered.
To what standards will the program align?
Next Generation Science Standards (NGSS): The Next Generation Science Standards (NGSS) are K–12 science content standards. These standards set the expectations for what students should know and be able to do in science.

National Education Technology Standards (ISTE): The ISTE Standards provide the competencies for learning, teaching and leading in the digital age, providing a comprehensive roadmap for the effective use of technology in schools worldwide.

21st Century Skills: Often referred to as the 4C's, 21st Century Skills are a defined set of skills that prepare students for success in their pursuit of higher education, careers and responsible citizenship. These skills include Communication, Collaboration, Critical Thinking and Creativity.
Standards for Mathematical Practice: A basis of mathematics instruction and learning, the Eight Mathematical Practice Standards, identify common habits of mind that all K-8 students should develop to promote mathematical understanding and expertise.